---
​MISSION OF THE DEPARTMENT
The department is entrusted with the realization of the mission of the College of Health Sciences in the domain of speech-language pathology and communication sciences. Therefore, the department strives to generate, disseminate and apply knowledge pertaining to prevention of disease, promotion of health, elimination of health disparities and improving health system performance.
The mission is to train quality speech-language pathologists, carry out creative, innovative and inventive SLP research, provide community SLP services, set and practice international standards in evidence based SLP and be at the fore front of physical therapy development and policy formulation.
The vision for the Department of Physical Therapy is to become the center of excellence in speech-language pathology education, research and community service in Morocco with high class scholars and professionals committed to maintenance of high quality standards of the SLP profession in line with global trends.
​
To achieve this vision, the Institute works to become:
The largest institution for speech-language pathologists' education in Morocco in terms of enrolment and degree programs.
The leading research institution in speech-language pathology in Morocco in terms of volume and quality of research, partnerships in research and publication in peer reviewed journals.
The leading institution in Morocco in advocacy for community-oriented speech-language pathology as indicated by participation in national and global public health forums, networks and alliances.
The leading consulting think tank of the nation in the field of speech-language pathology.
---
​ACADEMIC PROGRAMS
---
Bachelor of sciences in speech language pathology

Admission requirement : High school diploma (Abitur, Baccalaureat, GCE-A Level) + Admission tests
Duration of study : 3 years minimum of full-time study
Number of authorisation : 04/1610 – 30/06/2016
Number of accréditation : 04/2252 - 04/10/2016
---
---
ABOUT THE DEPARTMENT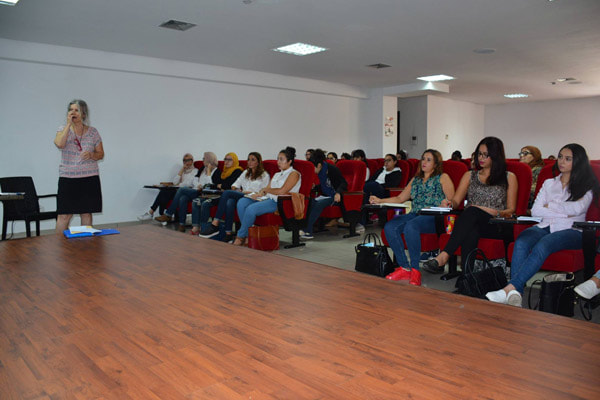 Our department educates and graduates world class speech-language pathologists who are capable to help children and adults with problems of communication. It is a very noble mission in which we strongly believe and for which we dedicate our minds and hearts.
Could you imagine what life would be if one isn't able to communicate; to speak and to be understood; to express your thoughts and feelings. Could you imagine losing your ability to taste and swallow food? This is life for hundreds of thousands of children, women and men in Morocco whom we strive to help. And nothing matches the satisfaction we feel when we see our work improving their lives.
​The number of individuals in need for SLP services is growing in Morocco and includes children and adults with problems of speech sound production, resonance, voice, fluency, language comprehension and expression, cognition and feeding and swallowing. If the most conservative estimates of the prevalence of these conditions were extrapolated to the Moroccan population, the number of these individuals would exceed 3 million. Yet, we have less than 350 practicing speech-language pathologists in their service. We need to double this number 10 times to reach at the minimally acceptable ratio of 1 SLP per 10 thousand population.
​We pride ourselves on the major reforms we have introduced to SLP education in Morocco. Thanks to the excellent cooperation of the ministry of higher education, we have managed to align our programs with the prevailing international norms and standards. Our students study courses equivalent to 180 ECTS (120 US semester credits) in the undergraduate program, which is three times more voluminous than other programs in the country. Further, we are introducing a graduate program in speech-language pathology equivalent to 120 ECTS (80 US semester credits). This two-year full-time study program represents a watershed in the history of the SLP profession in our country.
​The emphasis of the graduate program is placed on developing specialized knowledge and skills in one of the major areas of speech-language pathology. Furthermore, we offer opportunity for specialization in five specialty areas:
Speech and voice disorders
Language and learning disorders
Deafness and rehabilitation of auditory functions
Rehabilitation of swallowing disorders
Rehabilitation of neurodevelopmental disorders
We also work hard to implement the college strategy for research. The ambition of this strategy is to place our department at the national forefront of epidemiological and clinical SLP research. The strategy focuses on four priorities:
Development of standardized clinical screening tools for use in medical and community settings;
Development of culturally responsive novel delivery models of SLP services;
Communication competencies of autistic children;
Therapies of learning disabilities; and
Multilingualism and SLP.
---
COLLEGE OF HEALTH SCIENCES

Authorized by the Ministry of Higher Education, Scientific Research and Professional Training (Authorization No. 434/2015)
​Member of the Association of Schools of Public Health in the European Region (ASPHER)
Partner of the City University of New York (CUNY)
14, Boulevard de Paris, ​20000 Casablanca, Morocco
Tel.: 0522475775 | Fax: 0522 475778 | ​Email: info@esss.ac.ma