​MISSION OF THE DEPARTMENT
The department is entrusted with the realization of the mission of the College of Health Sciences in the domain of nursing sciences. Therefore, the department strives to generate, disseminate and apply knowledge in nursing sciences, aiming at prevention of disease, promotion of health, elimination of health disparities and improving health system performance.
The mission is to train quality nursing professionals, carry out creative, innovative and inventive research and community service in current and emerging nursing challenges, set and practice international standards in evidence based nursing care provision and be at the fore front of nursing policy formulation.
The vision for the Department of Nursing Sciences is to become the centre of excellence in nursing education, research, community service and consultancy in Morocco with high class scholars and professionals committed to maintenance of high quality standards of nursing profession in line with global trends.
To achieve this vision, the Institute works to become:
The largest institution for nursing education in Morocco in terms of enrolment and degree programs.
The leading research institution in nursing sciences in Morocco in terms of volume and quality of research, partnerships in research and publication in peer reviewed journals.
The leading institution in Morocco in advocacy for nursing care as indicated by participation in national and global public health forums, networks and alliances.
The leading consulting think tank of the nation in the fields of nursing care and nursing professions.
Bachelor of Sciences in General Nursing​

Admission requirement : High school diploma (Abitur, Baccalaureat, GCE-A Level)
Admission tests
Duration of study : 3 years minimum of full-time study
N° et date de l'autorisation : 04/01331 - 07/07/2017

N° et date de l'accréditation : 04/01513 - 28/07/2017
Programme des spécialisations infirmières

Admission requirements and duration


Condition d'accès : Bac+3 en sciences infirmières
Durée d'étude : 12 months

Options

:

Nurse specialist in anesthesia
Nurse specialist in intensive care
Nurse specialist in cardiac perfusion
Nurse specialist in interventional cardiology
Nurse specialist in operating room
Nurse specialist in neonatology
Nurse specialist in oncology
ABOUT THE DEPARTMENT OF NURSING SCIENCES
​ABOUT THE DEPARTMENT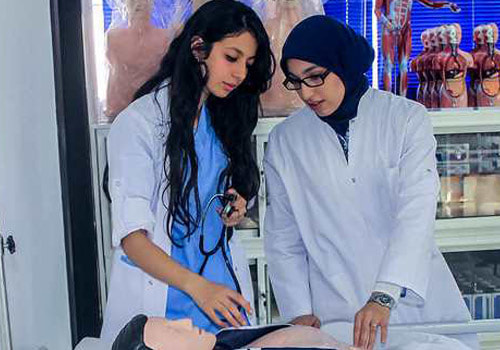 REMARKABLE ACHIEVEMENTS IN A SHORT TIME

Though our department is only five years old, we are very proud of what we have achieved in such a short time.
​
We have managed to upgrade nursing education in our country from vocational training to higher education spearheaded the move of nursing education from hospitals to colleges. We managed to deliver programs in full compliance with the European and American standards. Our students are offered quality education comparable to that offered to their peers in America and Europe. We have institutionalized nursing research and moving forward to leading our country in this domain. We are also engaging in serving our community, promoting our profession and cooperating with international partners.

WE PURSUE A DREAM

However, we still have a long way to go. Among all objectives set for us, perhaps the most significant is the development of qualified teaching staff coming from the nursing profession itself. We are looking forward to appointing the first Moroccan nurse to lead the institution, supported by a team of nurse professors all qualified at doctoral level. This dream will take five to seven years of hard work to realize. In the meanwhile, we are relying on highly competent team of medical professors, supported with visiting nursing professors from abroad as well as experienced nurses from Morocco.

​WE STRIVE TO FULFILL OUR MISSION

​We are striving also to bring about a quick improvement in the supply of nurses in Morocco. The shortage of qualified nurses in Morocco is troublesome and affecting every aspect of healthcare. We work hard to launch the nursing specialization program in september 2019, which is envisaged to bridge the qualitative shortage of specialized nurses and provide healthcare providers with what they utterly need. This program makes us practically responsible for producing the profession's future leaders. Such a responsibility, though putting heavy burdens on our small shoulders, is met with a lot of enthusiasm and devotion from all of us in the department.
​
​OUR COMMITMENT TO AFRICA, OUR CONTINENT​

We are also determined to play a role in qualifying competent nurses for our African continent. We are establishing serious partnerships, devising workable solutions and developing cooperation programs with several nursing educational institutions. ​The goal is to empower them in playing in their country the same role we play in Morocco. In addition to technical support, we place a special emphasis on qualifying the teaching faculty of these institutions.

RELEVANT MISSION​

​We believe in the relevance of our college and the mission it has. Firstly, it helps redress the nursing shortage in quantitative and qualitative terms. Secondly, it plays a pioneer role in advancing nursing research, placing Morocco ahead of other countries in the region in that respect. Thirdly, it opens up the profession to young talented people wishing to pursue graduate and postgraduate nursing education. ​Last but not least, it offers new career opportunities for young people within the country and abroad.
---
COLLEGE OF HEALTH SCIENCES

Authorized by the Ministry of Higher Education, Scientific Research and Professional Training (Authorization No. 434/2015)
​Member of the Association of Schools of Public Health in the European Region (ASPHER)
Partner of the City University of New York (CUNY)
14, Boulevard de Paris, ​20000 Casablanca, Morocco
Tel.: 0522475775 | Fax: 0522 475778 | ​Email: info@esss.ac.ma