---
​MISSION OF THE DEPARTMENT
The department is entrusted with the realization of the mission of the College of Health Sciences in the domain of nutrition and food sciences. Therefore, the department strives to generate, disseminate and apply knowledge pertaining to prevention of disease, promotion of health, elimination of health disparities and improving health system performance.
The mission is to train quality dietitians and nutrition experts, who carry out creative, innovative and inventive nutritional research, provide community nutritional services, set and practice international standards in evidence based nutrition and be at the fore front of physical therapy development and policy formulation.
The vision for the Department is to become the center of excellence in nutrition education, research and community service in Morocco with high class scholars and professionals committed to maintenance of high quality standards of the dietetics and nutrition profession in line with global trends.
​
To achieve this vision, the Institute works to become:
The largest institution for education of dietitians' in Morocco in terms of enrolment and degree programs.
The leading research institution in dietetics and nutrition in Morocco in terms of volume and quality of research, partnerships in research and publication in peer reviewed journals.
The leading institution in Morocco in advocacy for community nutrition as indicated by participation in national and global public health forums, networks and alliances.
The leading consulting think tank of the nation in the field of nutrition.
​ABOUT THE DEPARTMENT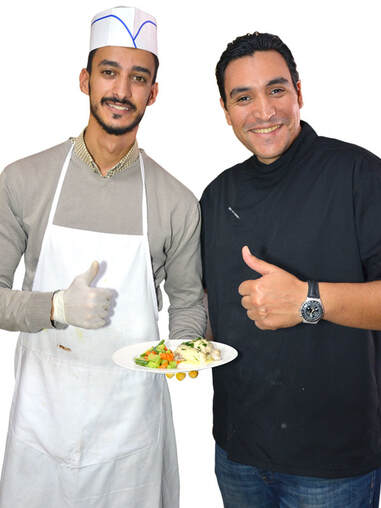 Our department educates and graduates world class dieticians and nutrition experts.
There is a universal consensus today that good nutrition is essential for good health. Well-balanced diet and healthy eating behavior can prevent disease, help sick people recover, maintain vitality and performance and drive good mood and spirit. In contrast, poor-quality food and unhealthy eating habits shortens life and causes serious diseases such as stroke, diabetes and cancer.
Healthy eating does not necessarily mean deprivation, blandness, or a rigid diet. It is simply about adopting and maintaining good habits into one's life and making proper dietary choices. But nutrition isn't as simple as these words may suggest. For example, research has proven that obesity is not simply caused by greed, laziness or a lack of willpower.
​There are multiple factors at play, many of which occur within our brain and physiology. A lot of these are completely out of our control, including genetics, childhood habits, medical conditions and hormones. People's bodies respond to eating the same meal in very different ways. Sticking to health dietary habit is determined by psychological, social and cultural factors that are complex and difficult to control.
This complexity is what makes dietetics and nutrition an exciting science and an extremely relevant profession. Our department offers one undergraduate program in nutrition and dietetics and four postgraduate programs in nutritional counseling, clinical dietetics, food technology and food management. These programs prepare students to undertake to competently work at four different academic and professional facets:
Nutritional counselling: It is the art and science of teaching people to give themselves permission to enjoy food and eat enough to feel satisfied, to have regular, reliable meals, to find out which foods help them to feel good, to pay attention when they eat so that they can enjoy it and learn from it, and to learn to value healthy eating in its own right, because it feels good and makes one's life better.
Clinical nutrition: It is the clinical domain that applies the principles derived from current biochemical, physiological, medical and nutritional scientific knowledge for assessment, diagnosis and treatment of nutritional disorders, treatment of non-nutritional disorders using nutritional therapies and adaptation of diet in pathological situations.
Food technology: It is the process of development of foods that are safer and healthier for consumption. They learn to create the different kinds of food products that appear on the shelves for consumers. They are prepared to work in all aspects of the food industry and with all different kinds of food, including fresh foods and packaged foods. They can also manage production and quality control.
Food management: It is a broad process that involves the proper oversight of food selection, preparation, presentation, and preservation. It also involves the supervision of food services to ensure the quality, taste, and safety of any food served or sold to the general public.
We also work hard to implement the college strategy for research. The ambition of this strategy is to place our department at the national forefront of nutritional research. The strategy focuses on four priorities:
Prevention, control and management of obesity, particularly among children
Prevention and dietary management of type II diabetes mellitus;
Prevention and dietary management of osteoporosis;
Fostering food safety and hygiene; and
Prevention of malnutrition among children and pregnant women.
Please feel free to contact us for further information and we are looking forward to welcoming you to the college soon.
---
COLLEGE OF HEALTH SCIENCES

Authorized by the Ministry of Higher Education, Scientific Research and Professional Training (Authorization No. 434/2015)
​Member of the Association of Schools of Public Health in the European Region (ASPHER)
Partner of the City University of New York (CUNY)
14, Boulevard de Paris, ​20000 Casablanca, Morocco
Tel.: 0522475775 | Fax: 0522 475778 | ​Email: info@esss.ac.ma